8 Top BIM Extensions with their Exclusivities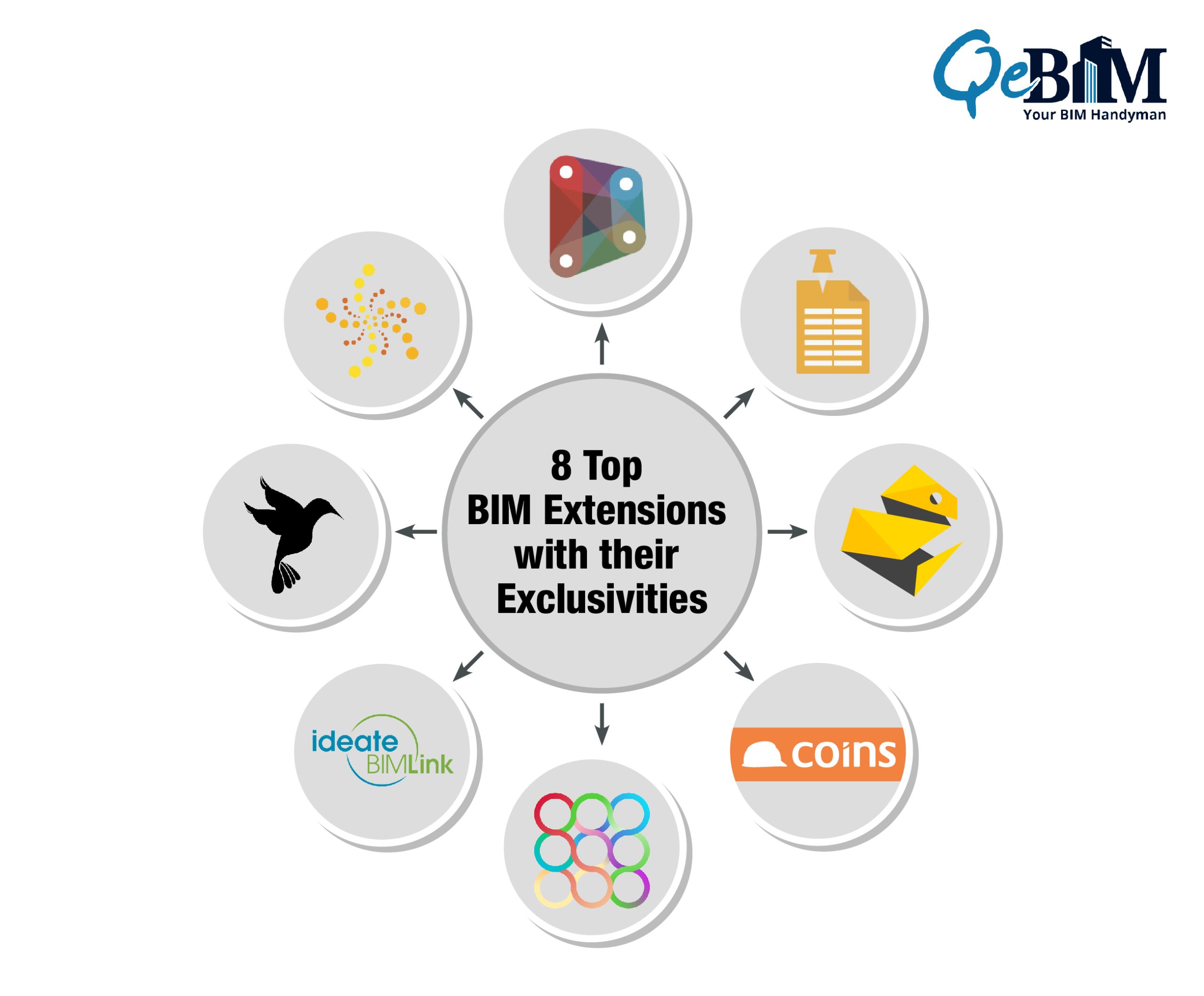 BIM is the model-based approach AEC professionals use for planning, designing, operations, and maintaining the building structure. This software uses the information to depict a real-world scenario of the structure before actual construction. It always helps simplify the building process and workflow by streamlining the activities and reducing the timelines, costs, and reworks. It makes project analysis and decision-making simpler and hassle-free. It also facilitates fluent communication and collaborative working with a single database. It plays a significant role in visualization and design validation, clash detection, and coordination to ensure timely and successful project completion. It helps understand and communicate the project's scope, keeping the members in sync.
To accomplish its objectives, BIM software needs the help of some extensions with features to fulfill its core construction tasks. The BIM extensions will play an essential role in BIM data management, visualization, transparency, conflict resolution, and simulation.
There are ample amounts of BIM software extensions out in the market these days, and it is challenging to select from them. We have listed a few of the top extensions with their exclusivities and offerings. Evaluate each of them very well and determine the best fit for your BIM project.
1) Dynamo 
Dynamo is an open-source visual programming plug-in for designers.

It can be used as standalone software (Dynamo Studio) or can be installed as a part of Autodesk Revit (Dynamo Revit).

It enables the customization of construction information workflows by formalizing algorithms.

It is used to model complex geometries.

It enhances automation for recurring activities and documentation.

It makes designing simplified with access to an extensive library.

It provides an instinctive interface for easy and conscious designing. 

Dynamo enables the extraction of data to and from various other files and formats not supported by Revit.

It aids parametric modeling and simplifies BIM data analysis.

It allows rapid design iterations.
2) pyRevit
pyRevit is a Revit plug-in which allows sketching and creating your idea/tool using python language.

It consists of an extensive set of powerful tools and features that save considerable design time.

pyRevit enables creating different patterns with the "Make Pattern" feature.

It also consists of the tool "Batch Sheet Maker," a ready script for creating multiple sheets simultaneously.

It also offers one of the exciting features, "Set Revisions on Sheet," to activate revisions on multiple sheets simultaneously rather than manually activating each one, which can be time-consuming.

It eases the graphics override with the "Match" feature.

It also updates the user of the last performed tasks with "Who Did That," so the team knows the creator or owner and the design updates.

The model often becomes congested and heavy with unwanted files; pyRevit allows you to delete all of them instantly with its "Wipe" feature.

pyRevit is free of cost and helps you distribute and share your tools with the community.
3) SheetLink from Diroots
Sheetlink is a free Revit add-in made by Diroots to sync your data back and forth from Revit to Excel and Google sheets.

Its graphic interface is advanced, user-friendly, and is a reliable option.

Make quick alterations and modifications by embedding an Excel-like editor.

Boost your productivity and save time using Sheetlink.
4) BirdTools
BirdTool is a tag alignment tool by Autodesk Revit.

It automatically aligns the tags and text notes.

It offers a modeless dashboard to control the annotations' geometries and angles so that the model doesn't become overpopulated in a single space.

It allows intelligent annotation alignment and arrangements.
5) Ideate BIMLink
Ideate BIMLink allows Revit users to pull and push the BIM data to and from excel.

Get easy and fast access to editing BIM data in excel.

It streamlines the model data management.

It reduces the time spent on editing and managing the data from hours to minutes.

You can control the Revit data with speed, ease, accuracy, and precision.

The recent release in Ideate BIMLink consists of custom revision sequences.

Export, Modify and Analyze the BIM data hassle-free.
 6) Microdesk Accelerator
Microdesk Accelerator is a suite full of features to speed up the creation of MEP Models with Drafting and Parameters.

It automates the irrelevant and low-value tasks for MEP designers to focus more on sustainable designs.

It enhances the

MEP BIM Services

by identifying clashes beforehand, increasing the modeling efficiency and coordination among MEP disciplines through automation and improved project management. 
 7) BIMCollab BCF Manager
Manage the issues and gaps well between various BIM tools with BIMCollab.

It is a BCF-based issue management system that aids

BIM Coordination Services

with fluent collaboration and communication among the team in real time.

It manages clashes and concerns throughout the building design and construction phases.

It streamlines the construction workflow in integration with the existing workflows.

It consists of various tools for conflict detection and resolution.

It is an essential tool for hassle-free collaboration on BIM projects.
 8) COINS Auto-Section Box
COINS Auto-Section Box allows you to manage the 3D views with speed and agility.

You can quickly create multiple views for analyzing a particular scope.

It will enable you to arrange the original and 3D view parallel for evaluation.

It saves a huge on time and effort while modeling and communicating.

Conclusion
It's easier to imagine a construction project lifecycle by implementing BIM software and its extensions in today's era. Identify your project's objective well and evaluate the actions needed to perform, define the core values, and analyze the available options for BIM extensions with their uniqueness to offer and select the best fit for your construction project.