How is BIM Automation Helpful in Effective Project Management?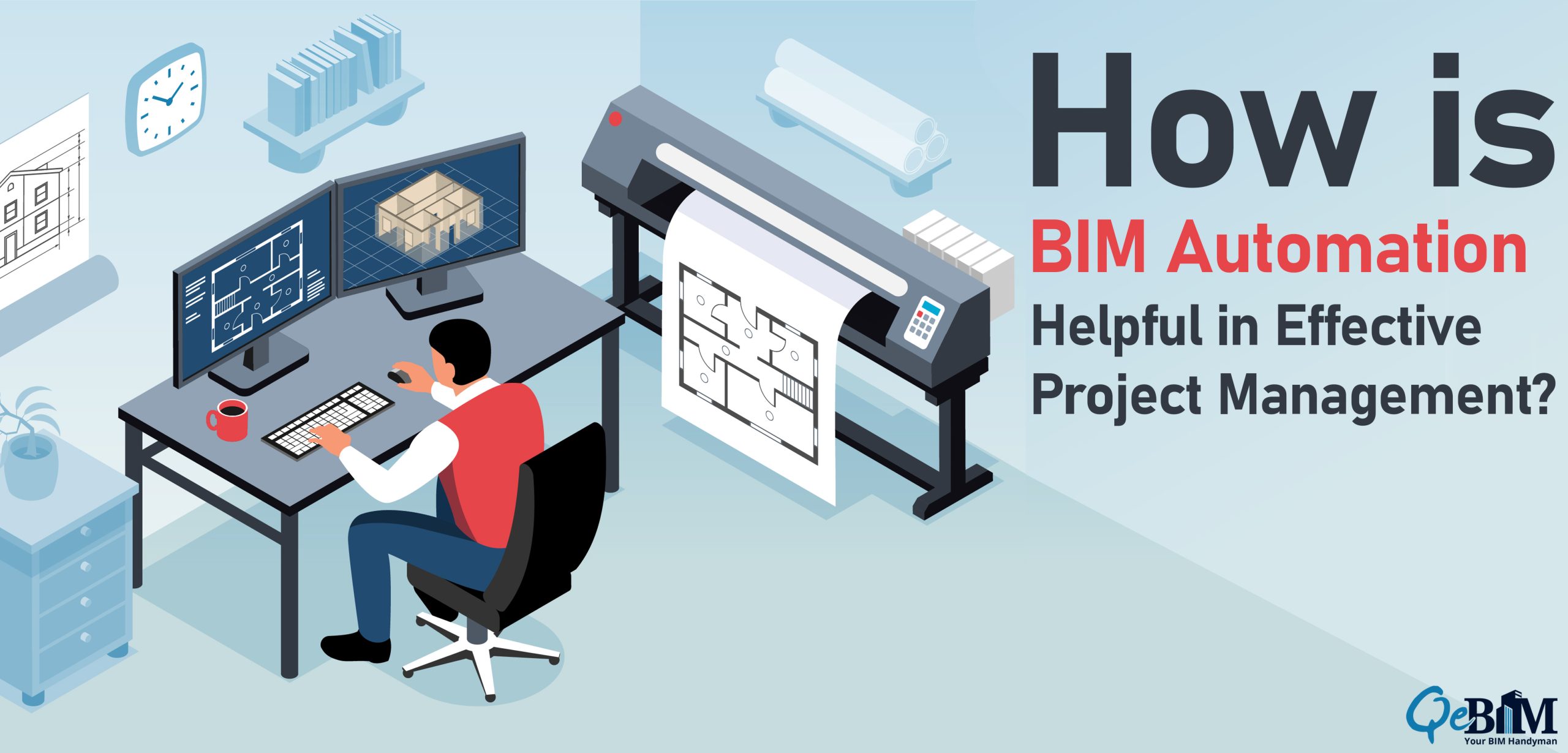 BIM, or Building Information Modelling, has transformed how the AEC Industry works by streamlining the construction workflow and delivering projects more accurately and precisely. BIM has simplified the execution and management of construction projects of all sizes and types in terms of reducing errors, timelines, and costs. Many countries have made BIM a mandate to implement their public projects. Also, many AEC firms have started integrating BIM to execute their complex projects. This shows the potential of BIM technology in building projects. 
BIM is proven of great use across all the stages of the building lifecycle, be it planning, designing, construction, and maintenance. It plays a vital role in helping out construction managers with effective operations and management throughout the entire construction cycle. It helps achieve the building structure's quality, sustainability, and safety within the timeframe and allocated budget. It also offers seamless information integration on the cloud that the team can access at any time from anywhere.
BIM Modelling Services are benefiting the AEC professionals and the team involved in the project execution to a great extent. Construction managers are the ones leveraging the maximum benefits out of BIM Automation. BIM allows construction managers to analyze the virtual model before construction, reducing clashes and delivering a more accurate and better-finished structure. Let's view in detail how BIM is an effective tool in construction management.
BIM for Project/Construction Management
1) Enhanced Communication: 
Implementing a construction project requires multiple parties like architects, engineers, designers, contractors, vendors, builders, and others. The project manager is responsible for handling them and ensuring that everybody works collaboratively to achieve the project goals. BIM makes this tedious task easy with fluent communication among the team since all the information is stored and accessed via the cloud. It also enhances internal and external team communication and improves coordination between different parties. Any changes, modification, or alterations made in the plan is communicated well via BIM, keeping the team updated about the project happenings and progress.
2) Decreased Re-works: 
BIM is an information-rich model that depicts every project component with even minute detailing, making it easier for the project managers to encounter clashes and manage them prior to implementation, thereby phasing out the costly redesigning on-site. It also facilitates them with documenting the ongoing construction work (Construction Documents) for better management and timely delivery.
3) Manage Resources Effectively: 
Since every model component is visually represented with Revit Modelling Services, it becomes easier for the construction managers to fetch the information regarding the resources required to implement the construction in terms of materials, workforce, and equipment. BIM reduces managers' headaches of manual calculations for each of them, saving time and speeding up construction.
4) Meet Deadlines: 
BIM Modelling streamlines the construction workflow with better planning and scheduling so that project managers can calculate the accurate timeframe required to execute and deliver the project. It is of great help in detecting any delays and managing the same to meet the timelines with the necessary measures and strategies at hand. 
5) Prevent Costly Overruns: 
BIM facilitates calculating and estimating the budget more accurately to implement the project beforehand with enhanced modeling. It helps in effective cash flow management, enabling construction managers to stick to the stipulated budget and prevent cost overruns.
6) Improved Decision-Making: 
BIM facilitates detailed visualization of various project parameters, which helps identify the potential problems and their causes and take necessary actions against them, simplifying the crucial decision-making for construction managers.
7) Facility Management:
BIM not only helps in effective planning, design, and construction of the project. It also enables fluent operation and maintenance of it. BIM allows construction managers to effectively manage the operations and facilities during the building lifecycle. It also helps them hand over the relevant information post-completion for successful facility management.
BIM for Project Management and Beyond
The AEC industry is revolutionizing, and BIM is the whole and sole factor responsible for it. It plays an essential role in conducting and managing construction activities. It has to offer something for every AEC professional, construction managers being one of them. By understanding and implementing BIM with effective BIM Outsourcing Services, they can reap the benefits of project management with improved quality, increased efficiency, enhanced productivity, and better visualization and understanding of the building project before construction.